Unterwerfungen
Philipp Gufler
December 8th to January 28th, 2023
W/ Cheap Collective, Sunil Gupta, Eli Hill and Students of the Leuphana University: Jana Baasner, Lotte Brandenburger, Lea Hensel, Lena Hinrichs, Maike Huber, Luna Jakob, Helene Jakob, Sasha Lehmann, Lola Oberholzner, Caro Ruddigkeit, Rosa M. Stemm, Emilia Warzecha, Max Wäsch.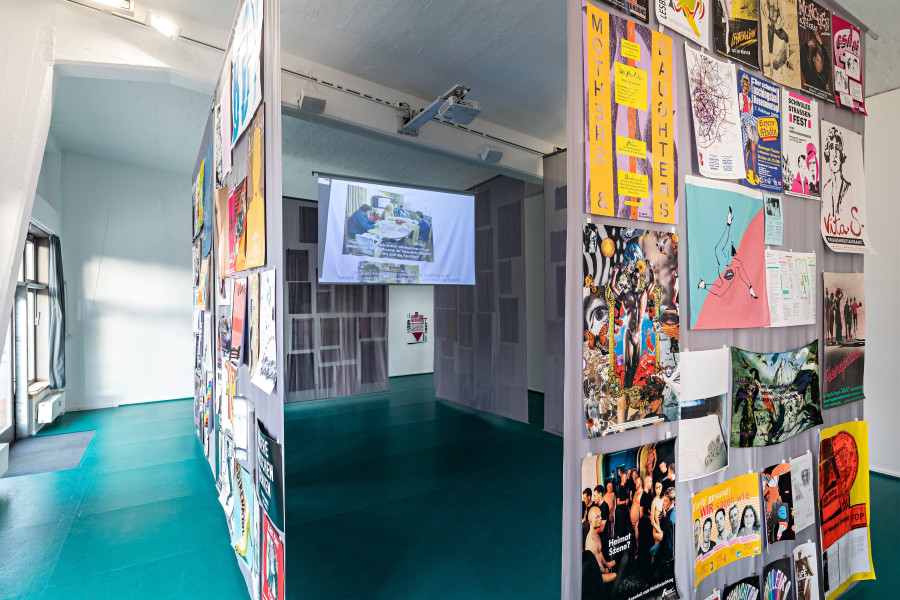 Kunstraum of the Leuphana University Lüneburg is delighted to announce the opening of Philipp Gufler´s solo exhibition "Unterwerfungen". Bringing together old and new works and structured by Gufler's ongoing collaboration with the self-organized Forum Queeres Archiv München, "Unterwerfungen" tracks the various ways in which Gufler stages archival material, resisting the heteronormative capture of a resistant past.
The installation "I Wanna Give You Devotion" consists of six textile walls, covered with over 130 posters from the archive of the Forum. The tender and temporary architecture houses an "archive of feelings" (Ann Cvetkovich) that registers the affective dimensions of documenting and recording queer cultures. Tethered to a heterotopic idea of the public, these posters communicate and conspire, tracing queer desire and life as well as ongoing struggles. With each presentation, Gufler has asked fellow friends and collaborators to make new posters in response to the Forum collection. At Kunstraum, we are presenting the newest additions by CHEAP Collective and Sunil Gupta. A publication, produced in collaboration with students from the Leuphana University Lüneburg, will be on display and may be picked up free of charge. The publication brings together the students´ individual and collective research into a selection of posters also shown in the installation.
Inside the installation, the 34-minute film "Projection on the Crisis (Gauweilereien in Munich)" is screened. Juxtaposing archival material from the Forum with artworks by friends and collaborators of Gufler, the video threads together stories of homophobia and queer resistance, with a particular focus on Peter Gauweiler's homophobic policies at the height of the AIDS crisis in Bavaria. Loosely organized around a timeline, the camera's almost uninterrupted tracking shot of the documents and artworks furthers the illusion of a progressive linearity, one that is revealed to be as much a function of a historical gaze, as an effect of technological dispositifs. A careful exploration of the synthetic nature of "the fictions of history" (Saidiya Hartman), the film articulates an emancipatory potential of making history.
As part of his ongoing Quilt series, Gufler has collaborated with the artist Eli Hill to produce for the exhibition his newest quilt, dealing with the legacy and memory of the philanthropist Reed Erickson (1917–92). One of the first trans men to undergo gender-confirming surgery in the US, Erickson systematically supported trans health care initiatives and members of the transgender community.
⁂
Philipp Gufler is an artist based in Munich and Amsterdam. He spans various media in his practice, including silkscreen prints on fabric and mirrors, artist books, performances, and video installations. Gufler is a member of the Forum Queeres Archiv München since 2013 and has participated in artist residencies at De Ateliers, Amsterdam; Skowhegan School of Painting & Sculpture, Maine; and Delfina Foundation, London. Artist books include Projection on the Crisis (2014 / 2021), I Wanna Give You Devotion (2017), Indirect Contact (2017), Quilt #01–#30 (2020), Lana Kaiser (2020), A Shrine to Aphrodite (2023) and Cosy bei Cosy (2023).
⁂